Compatible

No need to start from scratch when switching to the convenience of online
With SM-Reports Online we started with the interface of SM-Reports because few people like learning a new application interface, or have the time to do so. Most of the commands are organised in a similar way to SM-Reports.
To work in a browser there are differences that are explained in the 10 Minute Guide. For the administrator, the commands in the School and Reports menus of the old SM-Reports are almost identical in SM-Reports Online. If you already know how to edit and maintain the student and class lists, and the courses and outcomes of SM-Reports, then you can continue to do these actions in SM-Reports Online without having to read the manual.
For the teachers, years advisers, and admin staff, while the inconvenience of work files has been eliminated, the browser interface when entering information for the reports in the classes and students looks like the old work file program. So while work files are not being used, the way data is entered is the same. Again, the idea is that teachers who already use SM-Reports will have no problems with SM-Reports Online. In fact, we think it is easier.
For schools using Markbook Online, marks can be copied directly into SM-Reports Online without any re-typing. Each teacher can link their Markbook Online login to SM-Reports Online for fast copying of marks from their markbooks into their classes in the reports.
Easy to use Interface

Familiar commands, same templates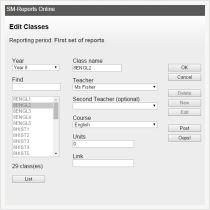 SM-Reports Online has a similar interface layout to SM-Reports to make it easy to learn.